We picked up our RV one year ago today!
Obviously, it's been a year of transitions and major changes – with some pros, some cons, and some surprises!
We try to be as open as possible here and are always willing to answer any questions.
Let's dig right in:
Family – We've been blessed to spend MORE time with family in the past!  (Don't worry Wisconsin fam – we're comin'!)  From all my Iowa cousins that I haven't spent time with in 20 years, to Todd's brother-in-law in poor health in Washington, to my oldest daughter staying with us in Grand Junction, CO, to Jase coming down to Florida to Mothers Day with both my daughters for the first time in decades and time with my grandkids in Virginia!
Friends – While we do miss all our friends in the Chicago suburbs, we've gotten to spend time with some friends we haven't seen in a while and make some new ones as well!  "House" guests get their own room in our rig, and we've enjoyed quality time with visits from great friends in Sturgis, Glacier National Park and Colorado!  Already have plans for friend visits later this summer in Wyoming and Arkansas, too!
House – we still hear plenty of "don't you miss a house"?  No. Nope. Nada.  Although the RV has its share of maintenance and upkeep (thankfully Todd is handy), it's nothing compared to the weekly household chores and yardwork!  The downsizing/living with less stuff has been all worth it and extremely freeing!  We truly don't feel deprived of anything.
The Rig – at 47 feet our 5th wheel can be a challenge sometimes (my OCD planning and navigating skills have kept us out of any real problems), but it does require that much more investigation into which campgrounds we'll fit at.  Did you know you can MEASURE things (like the length of a site) in Google Maps?  It's pretty cool!  That aside, we love our rig and wouldn't trade it for anything!  
Work – I continue to work 40 hours a week from "home".  In the last year, the company I've worked for for 40 years was sold as well as going thru a computer system conversion. With all new bosses and challenges, my brain is being taxed in new ways – LOL!  I'm looking forward to getting out of eastern time so I'll be off earlier at the end of the day!
Travel – Due to my work we can only move on weekends, meaning two weeks at one place gives us one weekend to explore or ride our motorcycles.  Three weeks gives us two weekends, etc.  After a year on the road, we have determined we prefer staying in each place for three weeks to a month and will start trying to do more of that in Year Two.  The below picture is a snapshot of the scratch-off map in our garage.  It wasn't our "goal" to hit every state, but I would say we hit quite a few in Year One!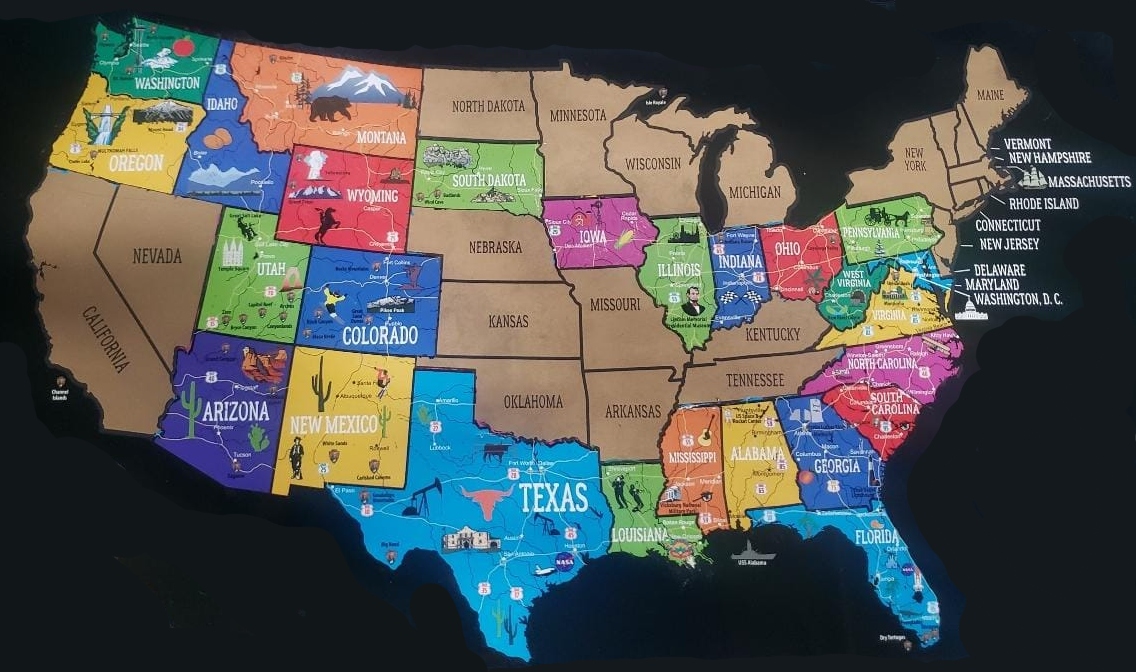 Motorcycle Riding – we love riding our motorcycles in all the new places!  The loading and unloading of them can get a little tiring when we move too frequently – or when we arrive or depart at a campground where we can't do the loading/unloading at our site.  But you do what you gotta do!
Temps & Weather – using my favorite weather routing tool: RV Travel Planning Weather Maps – we have successfully managed to stay out of bad weather and in the range of 60 to 80 degrees most of the time!  This makes me very happy!  We've discovered that I don't like 90+ degrees any more than I like 50- degrees!  Which also minimizes our energy needs for AC or heat.  Coming across the midwest in July might challenge those upper temps, but with family and friends there it will always be part of our loop!
Costs – It's hard to not be in "vacation mode" every time we hit a new area, but we try to limit our expenses to just a couple of dinners out or a tour if it's that kind of area.  This is real life, not a vacation or even retirement yet.  That said, our biggest cost has been campgrounds.  With RV travel being a flooded industry supply and demand has really escalated those costs – especially Florida!  We belong to a campground membership, but sometimes that just doesn't work out based on location or availability.  Food, insurance, etc are all the same as they were when living in a house – but the only "utility" bill is propane when needed!  Of course, the cost of diesel to MOVE the condo on wheels is horrendous right now, but it is what it is.  Depending on how diesel costs go in the coming year that may also force the "staying in each place longer" mentality mentioned in the Travel comments above.
Mind & Body – Strange category, but I felt it deserved discussing.  Mind: we both are loving this lifestyle and have less stress in our lives!  We're genuinely happy and don't see stopping the nomad life any time soon!  Body: we've each had some bumps and bruises – LOL – but nothing requiring medical care (except Covid).  I believe that's the result of less mental stress on our bodies.  That's the good.  The bad is that we've both put on weight as a result of less physical activity!  You know all those lawn tasks and household chores that we were so glad to be rid of?  Apparently, they were the main portion of our physical life!  Working on improving that……!
Realizations:
#1 – Todd is the Gladys Kravitz of the campgrounds – LOL!  He knows everybody around us within a couple of days (sometimes hours) of being at each new place!
#2 – Our favorite campgrounds fall within a pretty specific range of criteria.  Essential for us are temps (60-80 degrees), sites not too close, stores not too far (more than 30 minutes) and a great view is always welcome!  Oh – and no No-See-Ums (vicious, blood-sucking aggressive gnats) or caterpillars falling from the sky – LOL!
#3 – Moving too frequently gets old/tiring.  We will be shooting for three weeks to a month going forward when possible.

Thanks for reading!