As Valentine's Day approached this year in the midst of much purging and downsizing for our anticipated retirement in a year and a half which includes selling the house and buying an RV to travel the country, Todd turned to me and said, "So, are we buying each other Valentine's Day cards/presents"?
He's watched me spend hours/days/weeks digitizing all our photos and memories and knows we don't need more "stuff" at this point!
After pondering for a few minutes, my "RV Wishlist" on Pinterest came to mind. (Pinterest was never really my thing, but it has certainly become a handy place to tag all the things people recommend and talk about in all the travel blogs I've been reading!) Perfect!
We have decided that for each birthday or holiday over the next year or so, we'll pick something from that Wish List to buy each other, reducing the cost and rush of having to do it all at once – and heightening the excitement of our future plan!
Knowing we normally don't spend a fortune on Valentine's Day we browsed thru the list for something in the same price range……and ordered THESE!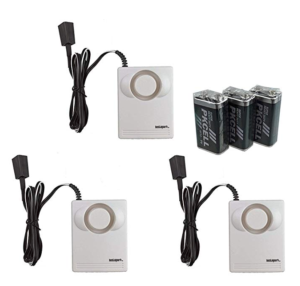 Does anyone know what those are?
If you guessed Instapark IN07A Battery-Powered Water Leakage Detection Alarm and Sensor, 130 dB – you're correct!
VERY cool little things that should be in EVERY home and RV! There's many different types and styles – but I chose these specifically for the RV because they stick into place and we won't have to hunt for them every time we move the RV – LOL! The set of 3 is perfect – one under the kitchen sink, one under the bathroom sink and one in the rv "basement" nearest the pipes and tanks!
Romantic? You bet! 'Cuz laughter is the most romantic thing to us and we had lots of fun picking them out from the wish list – and even MORE laughs testing them when they arrived!
And not to expose my extremely OCD side (*snicker*) but they went from "testing" directly to awaiting boxes for the Kitchen, Bathroom and Basement – clipped to the side so that they'll get put in place immediately upon unloading!
But really – I'm not anxious at all…… 🙂